By Lawyers is Australia's leading provider of practical Legal Guides, with over 140 Matter Plans, 7000 Precedents and detailed Reference Manuals in various areas of law. Our legal guides are designed to help you find answers quickly enabling you to work faster and smarter.
Legal Guides Tab
Using the Legal Guides tab properly is the key to getting the most out of each By Lawyers guide.
In the Guides and Precedents window, the Legal Guides tab is the best way to view and use By Lawyers content. Using the Legal Guides tab is an important risk management tool and we encourage all users to set Legal Guides as their default tab, instead of the Browse tab. This can be set in the 'hamburger' menu from the Legal Guides tab.
The Browse tab does not show the commentary, the layout is more difficult to navigate, and the precedents and folders do not always appear in the order intended.
The Legal Guides tab shows the relevant guide for the matter type associated with your matter and defaults to your last viewed folder in the guide. Each guide contains a Matter Plan which follows the typical flow of a matter, with precedents and commentary ordered sequentially, and less commonly used content appearing in 'If required' folders.
At the top of the Legal Guides tab, you will see:
a 'Related Guides' drop down;
a 'Browse more guides' button; and
a Search Bar.
Related Guides drop down
The Related Guides drop down will show other guides that are related to the current guide, including any Reference Manuals. For example: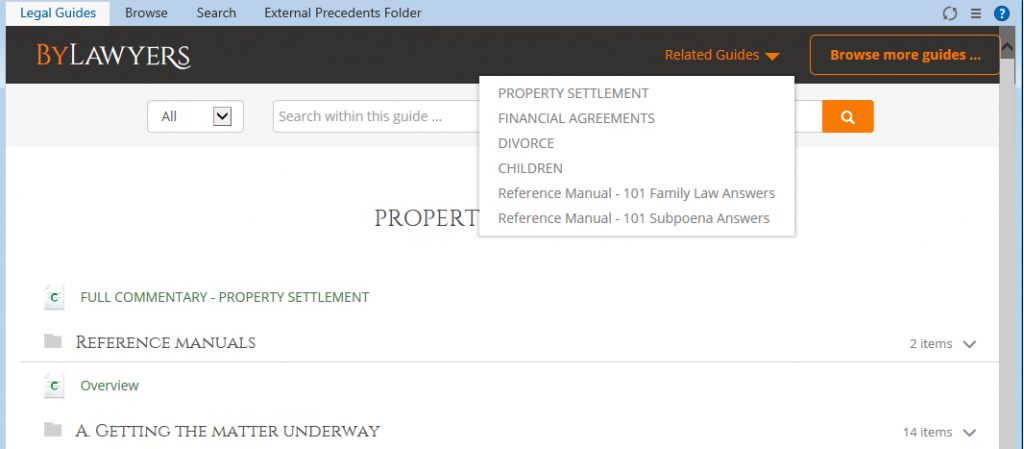 Browse more guides button
If you are looking for a guide that is not related to your current matter type, you can search for and open any other guide from the 'Browse more guides' button which allows you to narrow your navigation and searching by state. Any precedent that you open from another guide will merge with your current matter and can be saved into this matter.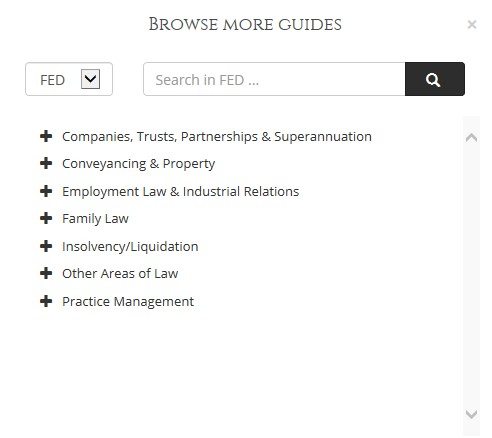 Search Bar
If you are unable to find a precedent after navigating the Matter Plan, you can use the Search Bar at the top of each guide. You can search both precedents and commentary, or you can confine the search to either precedents or commentary. For example: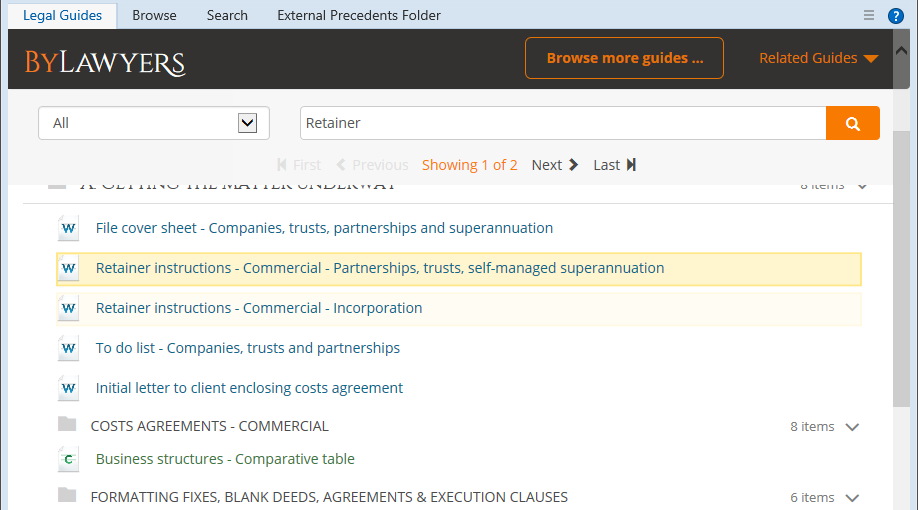 If you are still having trouble, please contact our Client Services Manager on (02) 4858 0619 or by email at support@bylawyers.com.au who is always happy to help.