For the assistance of practitioners conducting family law property dealings, a new folder has been added to the By Lawyers Family Law publication. Commentary and precedents are available to assist family law practitioners at the point of a matter where real property needs to be transferred between the parties.
The new folder is called If required – Real property dealings. The commentary and precedents within the new folder are extracted from the By Lawyers Conveyancing and Property publications. They provide guidance and the necessary forms and precedents to verify the client's identity to the relevant standard for electronic lodgments of transfers and dealings with real property.
The new folder contains the following precedents and commentary required for the electronic settlements process: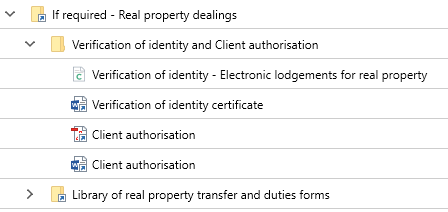 This useful content has been added to the Property Settlement guide and the Financial Agreements guide. The new folder can be found in Finalising the matter on both matter plans. The location of this new content reflects the fact that family law property dealings are typically effected upon finalisation of the matter.
Family law practitioners are reminded that the commentary in both the Family Law Property settlement and Financial agreements guides cover the considerations and procedure for transfers of real property in family law matters. The By Lawyers 101 Family Law Answers reference guide also provides helpful information which includes valuing real property in the family law context, stamp duty implications of real property transfers in family law, together with coverage of capital gains tax and foreign resident withholding payments.
This enhancement arises from feedback from a By Lawyers subscriber. We value such feedback and always love to hear our users. Don't hesitate to get in contact: askus@bylawyers.com.au