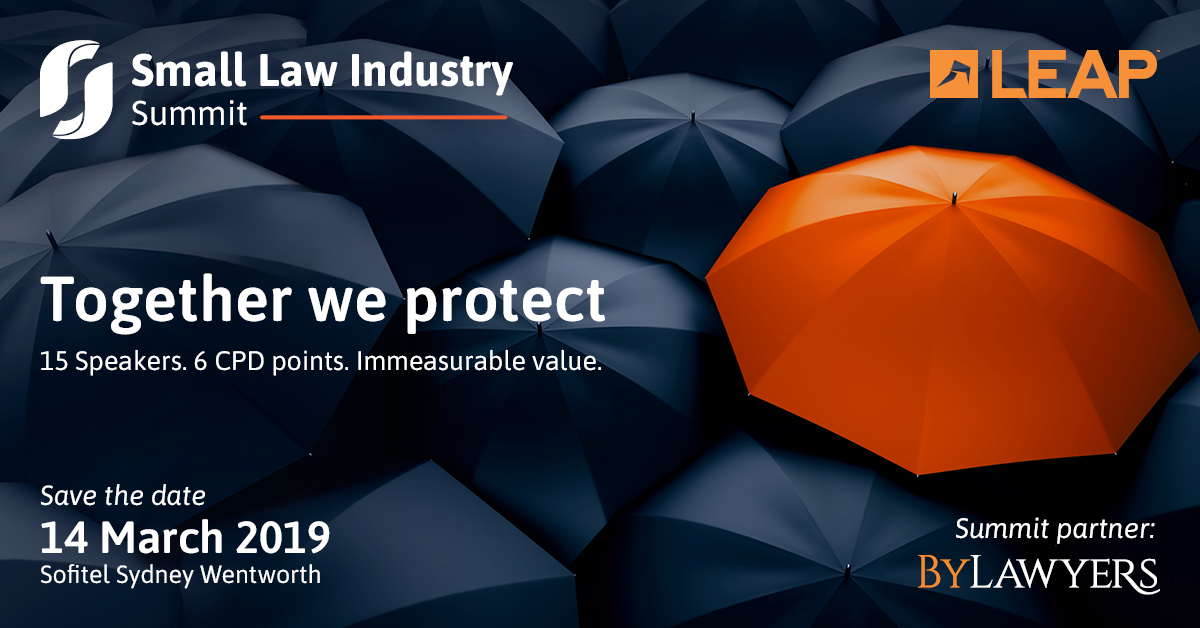 On the 14th of March, LEAP Legal Software will be hosting the inaugural Small Law Industry Summit in Sydney. The summit will be the first event of its kind, with a sole focus on the future of the small law industry.
The summit presents a valuable opportunity to discover the latest innovations in legal practice, equip your firm with the necessary tools to succeed in a rapidly evolving industry and make connections with like-minded innovators in other small law firms.
The summit will feature a number of essential presentations from industry leaders including:
Keynote Speaker – Dr Alana Maurushat – Professor of Cyber Security and Behaviour at Western Sydney University – speaking on the role of cyber security in mitigating risk.
Christian Beck – Founder of LEAP Legal Software – presenting on getting the best out of human capital, a firm's most valuable asset.
Rose Dravitzki – Head of Chambers at Clarence Chambers – will discuss methods of innovation through strategic business sourcing and structuring.
Therese Linton – Founder and Principal Consultant of The BASALT Group – examining ways that small law firms can transform the way that they work to significantly increase productivity.
Donna Cooper – Ethics Consultant at Ethics4Lawyers and By Lawyers contributing author – presenting on how firms can manage their ethical responsibilities in a technology-based world.
The event will be fully catered and 50% of each ticket sold will go towards supporting cyber security education through a scholarship at Western Sydney University.
Register HERE, claim 6 CPD points and automatically enter the draw to win a private harbour cruise adventure for you and up to 10 guests of your choosing.
By Lawyers will be attending the Summit – please make yourself known to our team on the day; we love to meet our clients and we value your feedback on our content.